Jared Ault's 2013 Impreza WRX STI
Member #13956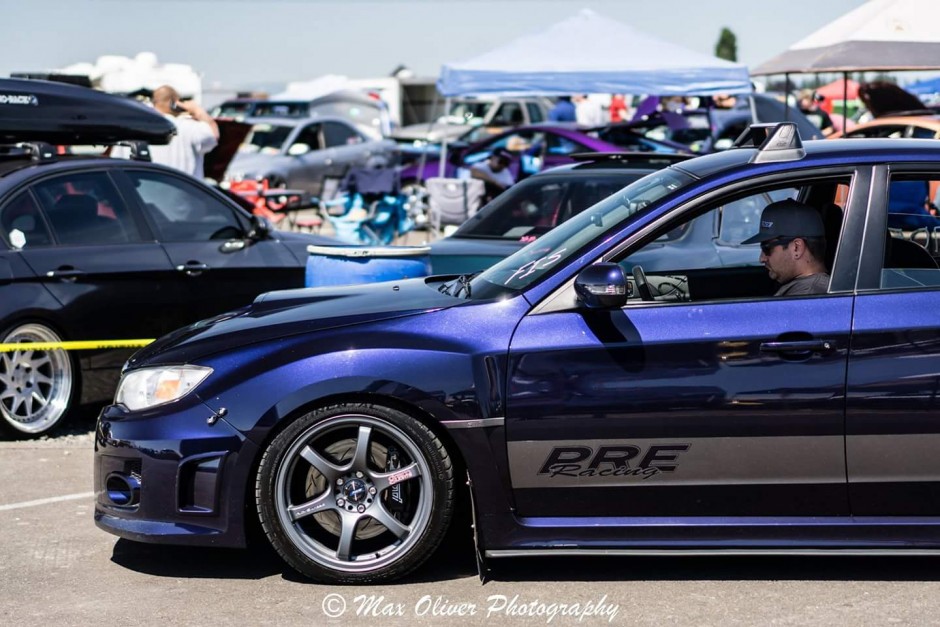 Car Description:
Mysti (aka: My-STI) will be featured at Factory Wheel Outlet's booth this year! She will have some newly reconditioned Ray's Gram Lights, and brand new Ohlin's coilovers to accent her custom built racing engine from Performance Race Engineering (aka: PRE).
Mysti runs low 12s on the drag strip, and is my daily driver. She is running dual Walbro 450s on a Radium Hanger in the fuel tank, big fuel lines up to Cosworth Fuel Rails and ID-1650cc injectors with a flex fuel kit. Mysti has built heads with springs, retainers, and 10mm valves, running on Stage 2, 272 GSC-Power Cams. The Blouch Dominator 2.5XT-R, 10cm turbo flows perfectly through the ETS Extreme front mounted intercooler that feeds a custom red Cosworth intake manifold with up to 28 pounds of boost.
Mysti has had upgrades to her motor mounts and transmission brace bushings. The Whiteline Sway bars with full lower bushing kit accent the Cusco Strut tower braces for precise. A Cobb short shifter allows for smoothing shifts, in shorter time. Leaving you to enjoy the sound of her WOT from the equal length Tomei Headers Up-Pipe and Nvidia N1 Exhaust.
If you want to cruise to tunes, Mysti packs around two Kicker Comp-R, 12-inch woofers under the truck floor, powered by a JL Audio amp with 1000watts RMS at 2-ohms. Alpine Type S, Mids and Highs take 100watts from an Alpine PDX-V for perfectly clear sound.
Jared's Social Media Info:
-
http://www.facebook.com/www.facebook.com/JaredCAult
-
http://www.instagram.com/jared.ault
Facebook Groups: