Adam F's 2004 Impreza WRX STi
Member #2433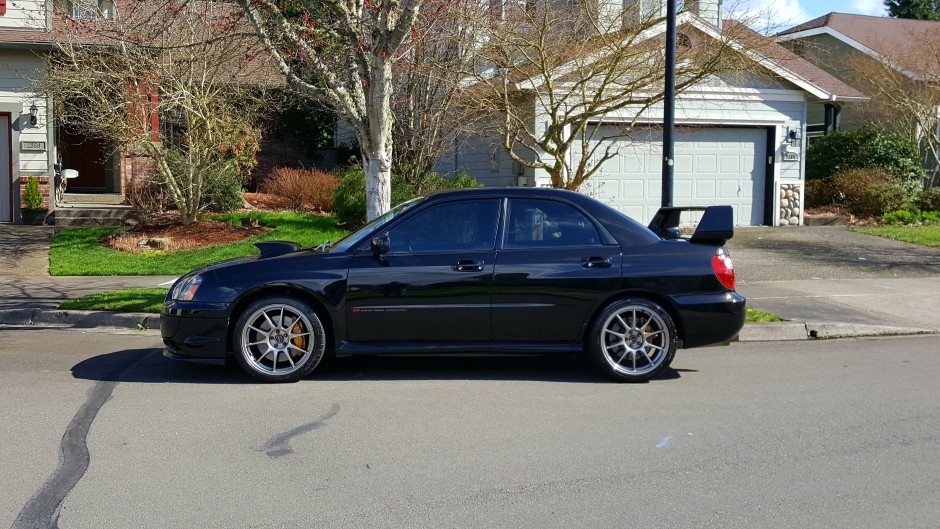 Car Description:
............Interior
• Original STi interior
• STi floor mats.
• Alpine head unit
• Turbo XS Turner Pro Wideband Knock Sensor.
• Oil psi, Boost, EGT Omori gauges
• Defi cluster gauge.
..............Engine/Tyranny
• Maddad Velocity V2 Exhaust Manifold, EGT temp probe installed – Ceramic Coated
• Maddad Upipe with Wideband O2 Sensor installed – Ceramic Coated
• Perrin Downpipe
• Espelir JGT500 Catback Exhaust
• K&N Typhoon Short Ram intake
• CSS Performance Top Mount IC with upgraded hoses
• Walbro 255lph
• Killerb Oil Pick up
• Grimmspeed Turbo Heat Shield
• BOV- GFB,
• Cobb Accessport (Topspeed/Scott Seigel turned tuned on pump 302hp, 348ft-lb)
• Custom Catch Can A/O separator.
.................Suspension
• Turn In Concept Spec AST Coilvers
• Carlabs rear X Brace
• TiC bushings (shifter, diff)
• Kartboy pitch mount
• Vorshlag front camber plates
• Paranoid Fab Front Fender Brace
• WedsSport TC105n (18x8 +42) with Michelin Super Sport 235/40zr18
• Stock gold bbs rims with Dunlop Direzza Sport Z1 235/40 R17
• ACT clutch and Gruppe-S flywheel
• Rack and Pinion Mount Bushings
• Whiteline F/R sway bars. With upgraded endlinks and mounts
..............Brakes
• Stainless steel brake lines
• Hawk HPS brake pads
• Speedbleeders
• Brake booster brace
.............Miscellanous
• Kartboy battery holder
• Rallitek SSI Skid Plate
• M1 Abrams RL shift Knob
• Odyssey pc680 battery
• Grimmspeed Hood Struts
• Prodrive Oil Cap