matt B's 1999 Impreza WRX Wagon RestoMod
Member #38915 :: Car Show Entry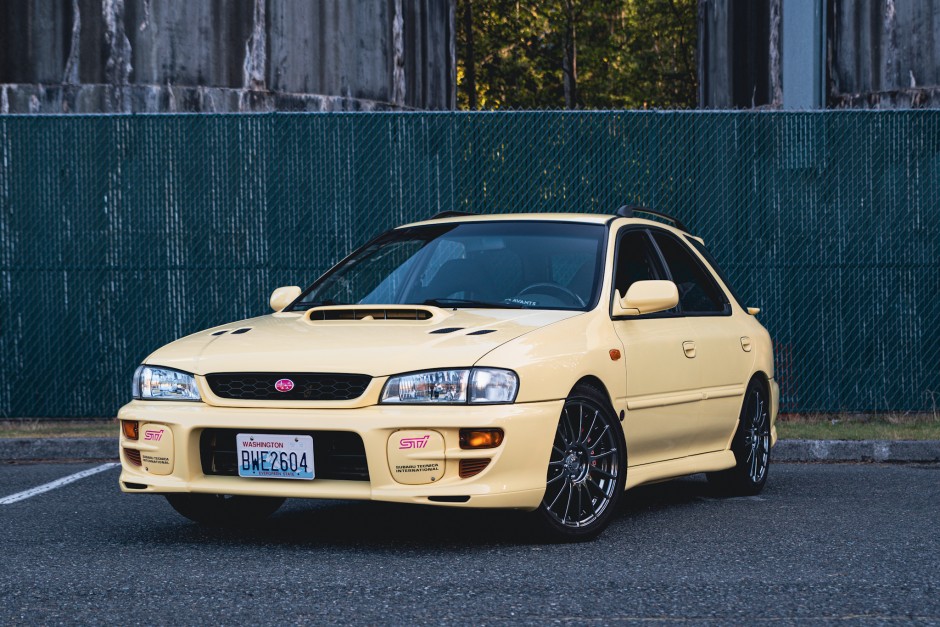 Car Description:
I've done my best to convert this run-of-the-mill Outback Sport to a period correct and as original as possible WRX-spec car for a fast and fun family hauler.
This is my first project car, started in July 2019 and finished in April 2021. I did all work myself in my home garage aside from paint and an iWire harness merge. Modifications from the original Outback Sport include a MY03 USDM WRX engine swap with COBB stage 2 bolt-ons, conversion from automatic to manual transmission using a JDM 5-speed with 4.44 final drive from a GC8 type-ra WRX. The car has been converted from rear drums to discs, with Subaru 4/2-pots, rides on Cusco coil-overs, with an STI steering rack.
Exterior has been converted to WRX STI version V spec, including a full color change to cashmere yellow and period correct decals. The car has version V front bumper and grill, side skirts, JDM smooth rear bumper with big top and waist spoilers, JDM roof rails and roof-mounted antenna. Wheels are 17" Gram Lights 57. The interior has been completely refreshed, with all-new or refurbished touch points, including steering wheel, handbrake, carpet, JDM WRX wagon door cards, seats front and rear, and dark trim pieces.
Aside from the modifications listed below, the car has undergone a mechanical restoration to keep it on the road for another 250,000 miles.
Exterior Modifications
- Full color change to Cashmere Yellow
- STI version 5 bumper
- JDM 'kouki'-style yellow fog lights
- STI fog light covers
- STI grill w/ pink badge
- 2.5 RS side skirts
- JDM roof rails
- Roof mounted antenna
- JDM smooth rear bumper and spats
- JDM 'kouki'-style roof and waist spoilers
Interior Modifications
- Black carpets
- STI floor mats
- JDM WRX wagon front and split-folding rear seats
- JDM WRX Type-RA door cards
- Black lower dash, trim, and glovebox
- Black center console with Forester deep pocket shifter surround
- Dark gray hatch area trim
- 2.5 RS white faced gauge cluster
Performance Modifications
- USDM MY03 WRX engine swap with iWire wiring harness merge
- Walbro 255 LPH fuel pump
- ACT heavy duty street clutch and StreetLite flywheel
- Group-N motor mounts
- JDM WRX Type-RA close-ratio 5-speed manual transmission (non-DCCD)
- JDM WRX Type-RA 4.44 limited slip differential (R160)
- Perrin transmission mount and dogbone
- GrimmSpeed up-pipe
- COBB catted down-pipe, Stromung mid-pipe, and JDM STI muffler
- Silicone turbo inlet pipe
- STI top mount intercooler with GrimmSpeed y-pipe
- Koyorad radiator with Mishimoto low-profile fans
- STI steering rack
- Cusco coil-overs with Group-N top hats
- Subaru 4-pot front and 2-pot rear brakes
- Stainless steel braided brake lines
- Whiteline polyurethane bushings (front, rear ,differential)
matt's Social Media Info:
-
http://www.facebook.com/matt.bielman.7
-
http://www.instagram.com/yellow_gf8
Facebook Groups: