Cody E's 2011 Impreza WRX STI Limited
Member #40975 :: Car Show Entry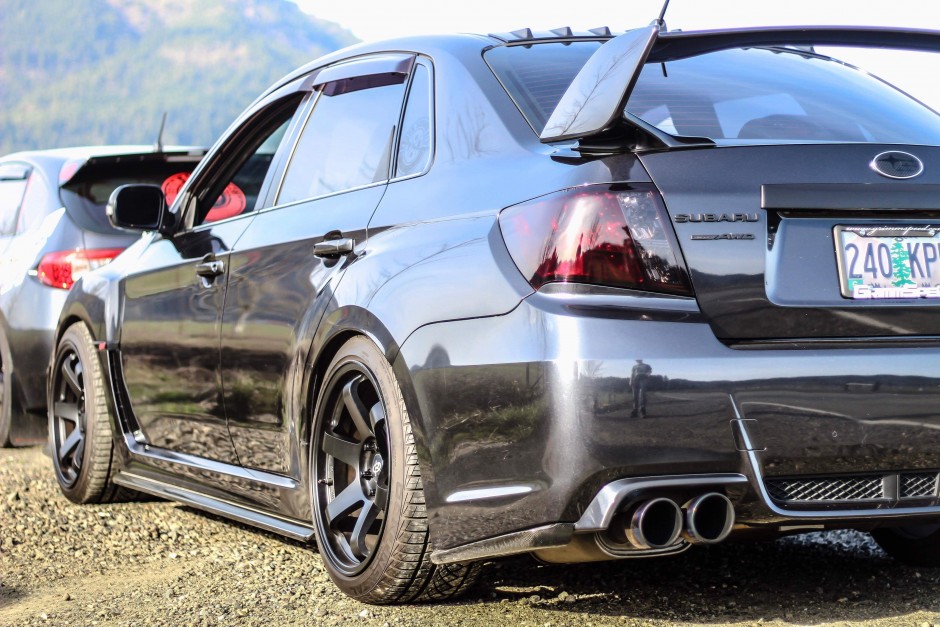 Car Description:
This is my dream car. A car that I have wanted since I first saw Colin McRae and Travis Pastrana in the 2006 X Games. I fell in love with that gold Hawkeye and wanted to experience the thrill of driving an AWD monster and hear that boxer engine scream. When Subaru unveiled the 2011 STi redesign, I was in awe. I told myself that I would own one... Someday... At the time, it seemed crazy to think I'd ever own even a stock STi. Now here I am with my 500hp daily driver STi Limited. There have been many up and downs along the way, and one could say there has been a little bit of a love/hate relationship with this car. In the end it was all worth it, because I have obtained what was once unobtainable, and it is awesome.
Built/Tuned by JohnJohn at Infront Automotive in Auburn WA
Mods:
- Cobb Accessport
- IAG Trojan closed deck and o-ringed short block, balanced and blueprinted
- Killer B OG high performance oil pan, baffle, pickup
- IAG 1/2" ARP head stud set
- IAG-Spec JE FSR 99.75mm 2618 Forged pistons, electroless nickel plated tops & ring area
- Subaru JDM 12mm oil pump
- IAG-Spec Tuff H-Beam rods, ARP 625+ rod bolts
- Subaru nitride treated 2017+ STI crankshaft
- ClutchMasters FX400 with 15lb flywheel
- Stage 3 port and polished heads
- 1mm oversized valves, sodium filled exhaust
- Titanium retainer set/valve springs/seats/seals
- GSC stage 1 cams
- STi racing timing belt
- Cosworth timing guide
- Custom rotated Forced Performance HTA GT3586R with V-band TiAL 44mm wastegate
- Grimmspeed EBCS
- Perrin big tube equal length headers
- Custom up/down pipe and waste gate dump
- Invidia Q300 titanium tip cat back exhaust
- Cosworth fuel rails
- Injector Dynamics 1700x injectors
- Radium Engineering fuel pulse dampers
- Aeromotive fuel pressure regulator
- Radium Engineering fuel pump hanger with Walbro 450LPH pump
- Custom surge tank with Walbro 450LPH pump
- Legacy GT plastic intake manifold, TGV delete, air pump delete, and phenolic spacers
- Custom pie cut intake with aFe Pro 5R air filter
- Custom intercooler piping
- AMR 5" front mount intercooler
- Synapse Engineering blow off valve
- Crawford Performance AOS
- Koyorad aluminum radiator
- Defi gauge control unit (JDM)
- Defi oil pressure CR White/Red
- Defi boost 2bar CR White/Red
- Defi oil temp 150C CR White/Red
- Defi EGT 1100C CR White/Red
- STI group n mounts, trans/engine/pitch
- TEIN EDFC coilovers
- Perrin PSRS steer kit
- Whiteline roll center kit
- Whiteline steering rack bushings
- Whiteline diff mount inserts
- Whiteline 24mm front sway bar
- Whiteline 22mm rear sway bar
- Whiteline front control arm braces
- GT Spec front strut brace
- GT Spec ladder brace
- GT Spec rear a-braces
- GT Spec steering wheel
- Kartboy short shifter kit and bushing
- Custom machined shift knob
- Chargespeed carbon fiber full lip kit
- Rota Grid concave 18x9.5 +38
- 255/35/18 Continental Extreme Contact DWS 06
And more....
Cody's Social Media Info:
-
http://www.facebook.com/cody.edwards.547389
-
http://www.instagram.com/dgm11_sti
Facebook Groups: