Sean Fillner's 2005 Baja STI ADF Mattracks
Member #967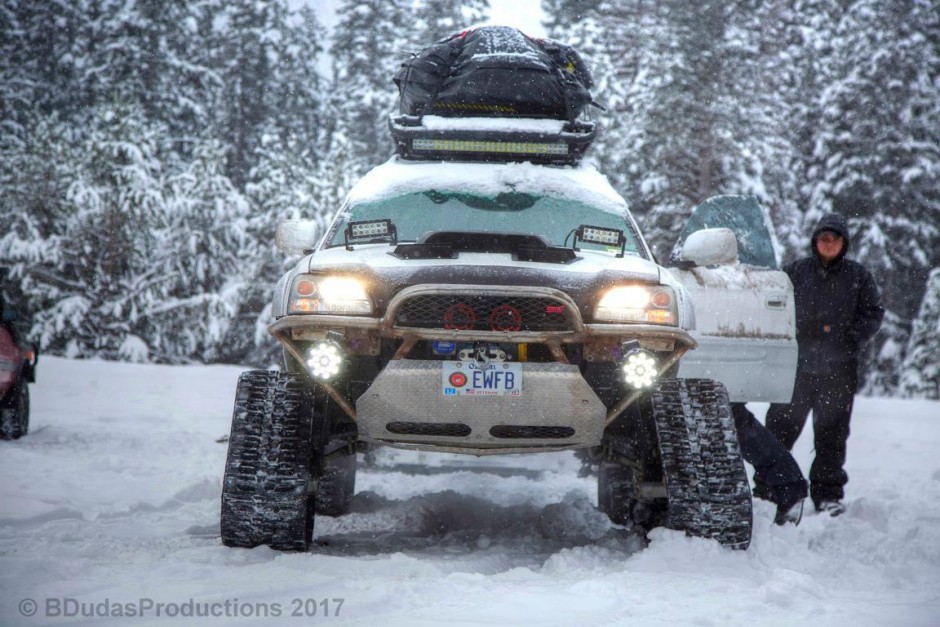 Car Description:
2005 Subaru Baja Turbo with a FULL STI conversion swapped from my 68k mile 2005 STI.
Fully built factory new EJ257 motor by Brian @ Bearing Services in Portland. Iron sleeved, Arias pistons custom made to sleeve diameter, Manley turbo tuff rods, ACL race bearings.
6 speed STI transmission with fully functional DCCD and STI gauge cluster.
TD04HL-19T turbo (2000 JDM Forester STI) with Turbosmart Hypergate 45mm wastegate fed from a custom stainless intake and K&N filter into an AMR TMICV2. 3" downpipe to muffler dump exhaust.
Top feed conversion, DW 65c fuel pump, 1000cc Injector dynamics fuel injectors, Agency power fuel lines, Sard FPR. Self tuned with open source speed density tunes for both E85 and Premium fuel. Torque on tap from 1200-6500 rpm using this setup.
6" ADF custom tube frame chassis and lift. All OEM body capture nuts tied together and reinforced.
One off Subaru Aspen White (51e) Mattracks conversion for snow and sand.
All stainless framed tube bumpers with diamond plate aluminum skid plates.
Corbeau TRS heated seats with Subaru Satin White Pearl (37j) color matched inserts.
Dual optima yellow top batteries with a 500 amp stinger battery isolator paired with 2/0 pure copper leads fused at each end with 200 amp ANL fuses.
Dual superwinch setup: 8500lb front with dyneema synthetic line, 4500lb rear with custom splice synthetic line.
Custom built bulldog tilt bed trailer for easy loading/offloading at various snow/sand locations.
All assembly work/fabrication/maintenance performed by myself.
Many more modifications (too much to list)
"Yeti the BajaSti" book available on Amazon.
Instagram @seanfillner
Facebook: Sean Fillner
Youtube channel :Youtube.com/sti2nr2
Fabrication photodump: Putphoto.com/sti2nr
Sean's Social Media Info:
-
http://www.facebook.com/sean fillner
-
http://www.instagram.com/seanfillner
Facebook Groups: